We offer complete car care service from routine dealer recommended maintenance to complete diagnostics and full service auto repair. We know that our reputation is built "one customer at a time" and we appreciate your business.

Tuffy Tire & Auto Service Center - Papillion, Nebraska
We offer comprehensive auto repair services designed to get you back on the road quickly and affordably. Our shop services domestic and imported cars, trucks, and SUVs. We specialize in preventative maintenance services (oil change, tire rotation, etc.) and we have highly qualified technicians for muffler and brake services, exhaust systems, internal engine repair services, electronic services, transmission work, and heating and cooling repair.
At Tuffy Papillion, our certified technicians keep their skills current with training in the latest technology available for passenger cars, performance and light truck/SUVs. Complete under-car services, such as oil changes, brake repair, shocks, struts, wheel alignment, transmission repair and fluid flush for both foreign and domestic vehicles are readily available at competitive prices.
We proudly perform preventative maintenance and auto repair services for residents of Millard, Springfield, Council Bluffs, Omaha and surrounding areas. Our goal is to be the best auto repair shop in Papillion, Nebraska.
Call us today!
402-596-0700
Since 1970, Tuffy Tire & Auto Service has been committed to treating our customers with honesty, respect and professionalism. Our philosophy is to provide quality parts and service at an exceptional value. We recognize that satisfied customers are the foundation of our business and that our future success is determined by how well we exceed our customer's expectations today!
Done Right. Period.
That's how we do things at Tuffy® Tire & Auto Service Center. That's why only Tuffy offers a 2-year/24,000-mile guarantee on parts and labor you can take to any store. Plus, we offer a courtesy inspection with every Tuffy purchase. It covers tires, brakes, fluids, exhaust system, battery, belts and more. With every purchase, we even give you 24 free months of roadside assistance, too. We call it ToYourRESCUE®. Our work will be DONE RIGHT. PERIOD. Or we'll fix it for free. Now that's what you call Tuffy totally having your back.
Our full service tire and auto service centers service all makes and models, foreign and domestic, cars and trucks. Our highly qualified technicians specialize in providing quality auto repair services including; brake repair, fluid service, transmission repair, suspension service, engine service, exhaust repair, oil changes, air conditioning repair, wheel alignments, preventative maintenance and much more.
Need to schedule a service appointment for your vehicle? Save time and schedule an appointment with us online. It's simply, click on "Book Appointment" and schedule your appointment. We'll contact you via email to confirm the day and time of your appointment.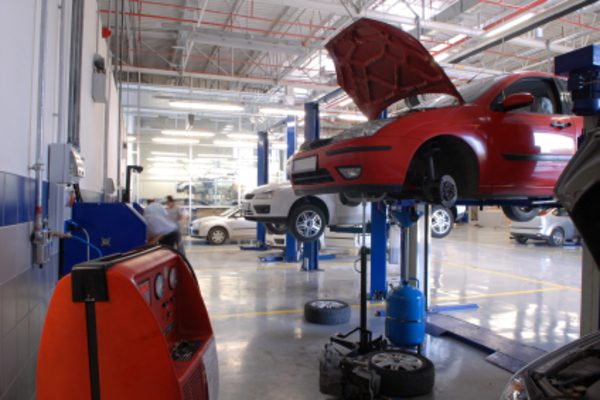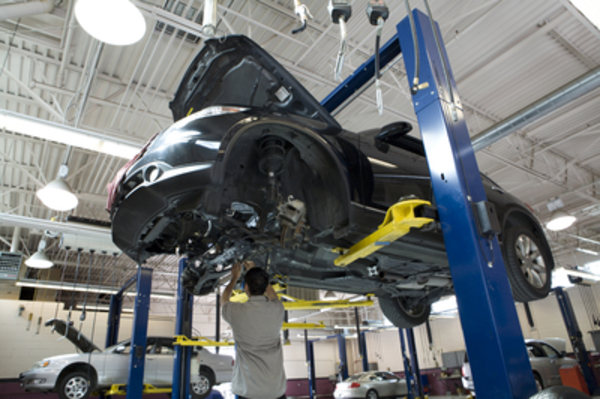 From around the Web
Tuffy Reviews
"Great auto service. Good reception, pay attention to your car. "

Yacouba

Apr 06, 2022 – Papillion, NE
"Keith walked me through and explained everything I needed. Professional and no up sell. Going back."

Mike K

Feb 09, 2022 – Papillion , NE
"Been here for 3 years and finally have a dependable mechanic. We broke down in the Target parking lot, so we walked over to Tuffy where we were taken care of like we were family. Take it from this girl who comes from a family of mechanics that is hard to find. We were even treated that well by the new guy who started today! 2 Eric's and a Jason..you guys rock!"

Katy Perrotta

Dec 17, 2021 – Bellevue , NE
"Papillion location rocks. Had a screw in my tire and they got me in an out in no time. My go to auto service."

John PANNONE

Aug 12, 2020 – Ralston, NE
"The Tuffy's in Papillion is amazing! The staff is very informative and friendly. They have gone above and beyond to help me with my car. They are now my go to place to take my car. "

Paula R

Mar 14, 2020 – Papillion , NE
"First visit to Tuffy's for an oil change. I went in the morning, the service was fast and friendly. I was not able to use the online coupon due to the type of oil my car requires, but they did offer a discount to me anyway. Thank you Tuffy! "

Valerie K

Aug 22, 2019 – Papillion, NE
"Doug at Tuffys in Papillion was so nice. I went in to have brakes checked based on dealership recommendation. Doug was accommodating, I feel, honest. He explained what they would look at and if I truly needed the repair, I did. Cost was decent and working done very timely. Thanks Doug and company "

Vicki T

Mar 05, 2019 – Omaha, NE
"Fast friendly service and great pricing. "

David M

Feb 12, 2019 – Papillion, NE
"Awesome customer service! Gave me a quote and when finished it what was quoted and didn't try sell me services that I didn't need. They also assisted me with trouble shooting a problem my exhaust system. Great honest shop! "

Brian S

Jun 19, 2017 – Papillion, NE
"We have always have had excellent service with this location. (Papillion NE. I would recommend this location to all. Great job guys!."

Mary

Feb 15, 2017 – Fenton, NE
"Called in the morning for a battery replacement, they told me they could get me in as soon as I could get there. 25 minutes later I'm on my way with a new battery for the cost they quoted. No bull, no hassles just fixed it and sent me on my way. That is precisely what I wanted. Thank you Papillion Tuffys. "

William D.

Jul 15, 2016 – Papillion, NE
"I love coming to this location. Very friendly, helpful employees."

Tonya B.

May 18, 2016 – Papillion, NE
"Steve explained what was going on with my car in laymen terms. We discussed my options and prices before any work was done. "

Matt B

May 03, 2016 – Papillion, NE
"Must say that I'm very impressed with the service hands down. Dropped my car off, got a call from the manager with the issue,fix,and price. Gave them the green light to fix it. The manager had an ETA as to when my car would be done. Again very happy customer here and new management makes a huge difference :) "

Jason P

Feb 01, 2014 – LaVista, NE
"I'll admit it. I just don't like doing car repairs or maintenance. That's why I appreciate the mechanics at the Tuffy in Papillion. They do a great job, so I don't have to! "

Rob P

Jun 18, 2013 – Council Bluffs, NE
"Thank you Tuffy Papillion crew for helping with my car repair. I was proud to be able to tell my dad that I got my car fixed myself and he didn't have to handle it for me. Now he and I both feel better knowing I am driving in a safely operating vehicle. "

Ashley B

Jun 18, 2013 – Papillion, NE
Show more